I think it's safe to say that literally everyone loves Sunny Leone. What's not to love about her? She's gorgeous, she's Indian (via Canada), she has award winning breasts, she's a porn-to-Bollywood crossover star, and she once worked at Jiffy Lube.
Today we learned that Sunny is the new face of PETA India and their campaign to encourage pet owners to spay and neuter their pets. Why is this important news? Well, whenever a porn star is photographed with all their clothes on it feels like the world's gone all topsy-turvy. But more importantly, she's doubled her sexiness.
Allow me to explain:
She cares about animals, which means she's intrinsically nurturing. This desire to nurture translates to great sex, which you can watch here: "Sunny Leone lights the bed on fire with her sex"
The cause she's promoting is the same one that Bob Barker used to sign off with on The Price Is Right. Bob Barker is the man and for some reason this new correlation between him and Sunny Leone makes Sunny Leone sexier.
Anyways, let's take a look at her new PETA India ads: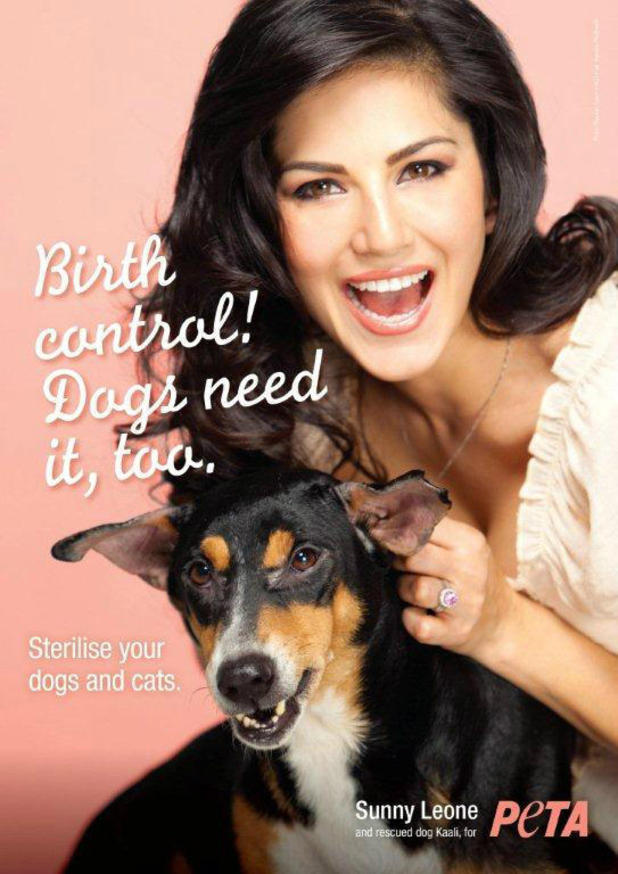 And here's a bonus photo of Sunny looking great in a PETA t-shirt:
Plus there's this video. It's kind of a bummer but whatever, it has Sunny Leone in it. By the way, you're supposed to pronounce the "E" at the of "Leone"? The world sure can be a fucked up place!
So there you have it, Sunny Leone is a spokeswoman for PETA India. She's great and the cause is great. Spay and neuter your pets people. This applies to everyone and not just the population of India.
Meanwhile, what the heck is going on with North American PETA's advertising these days? Look at their latest anti-cruelty ad:
David Nevarro? Sorry. I mean, Dave Navarro? I don't need to see that. This ad almost make me pro-cruelty.
Whoever is running PETA India has got it right. Sunny Leone > Dave Navarro any day. Can someone please contact PETA and tell them that we want beautiful people and not washed up rock stars?