So Pornhub's year review included the top porn searches by country and honestly, is there really any better way to get to know what a place is like than to find out what kind of porn they as a general population like to watch? Alright, I'm kidding, but I was actually just generally greatly amused by their findings. Sex.com is awesome and also made an interactive map for the fourth of July, but since Gil already talked about that one, I'm just going to link it for you here. (I wouldn't want to steal his thunder, you know)
Let's start with the USA: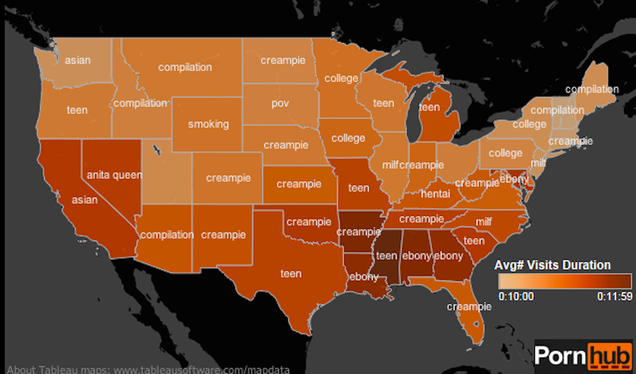 The irony that one of the top porn searches for the southern states was "ebony" is not missed on me. However, as you can see most of the top porn searches in the USA were actually kind of boring. Mostly everyone stuck to good old fashion things like cream pies and teens. Although I was kind of surprised by a couple… I mean Hentai, really?
Source: hentaifromhell.net via 28point5cm on Sex.com
So how about Canada? Luckily Pornhub also created a map of top porn searches by province and it turns out Canada is just as boring as the USA. Except we really like lesbians and that I can support.
What made me really laugh on this chart though is that Quebecers are so into themselves their top search was actually "Quebec". I was really curious. What the hell is Quebec porn? Do people from Quebec really just get turned on by moans that sound French? (Is that a thing?) Or maybe they get turned on by seeing familiar places? So I searched it and found this one video that was kinda alright but otherwise it doesn't seem like Quebec porn is any different than any other kind of porn. I guess I must be right about the French moaning thing.